| | | |
| --- | --- | --- |
| Events Calendar | | |
Monthly Meeting
Wednesday, July 19 2017, 12:00pm - 1:30pm

Peak 2 Wildfire Update/
Volunteer Forest Monitoring
What we discussed:
Update on Peak 2 and other wildfires from Deputy District Ranger Adam Bianchi, assisted by the new Dillon Ranger District Fuels Specialist, Lisa Lonear. Summit County Wildfire Council report.

The U.S. Forest Service provided us with final plot locations for this season's monitoring. We assigned plots to each monitoring team. There are a total of 68 plots slated for one-time monitoring.

Shelby Limberis further streamlined the process. Less time will be required per plot. She explained what data will be collected and how to record.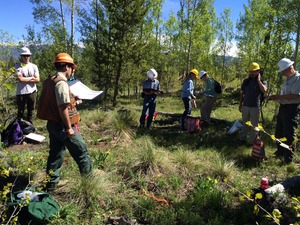 Location : County Commons, Mt. Royal Room
Contact : Howard Hallman