| | | |
| --- | --- | --- |
| Events Calendar | | |
Monthly Meeting
Thursday, August 17 2017, 8:00am - 5:00pm

Forest Monitoring So Far This Season
What We've Learned - How We Can Improve
The Forest Health Task Force meets this Wednesday, August 16, Noon - 1:30 p.m
County Commons, Mount Royal Room
This season's volunteer forest monitoring has gotten off to a great start, in large part, due to the efforts of our combined team leaders and our volunteers.
This month's meeting is dedicated to reviewing our monitoring work so far and planning for the rest of the monitoring season. We will be discussing what went well and what was challenging. What can we do going forward to be more efficient? How do we prevent "burn-out"?

We hope to see as many of our forest monitors as possible, whether or not they have been able to work on plots yet. We also extend a special invitation to non-monitors as we hope they can get a sense of how much we have already accomplished this year.
Also expect updates from the U.S. Forest Service, the Summit County Wildfire Council and other stakeholders.
We welcome comments and questions.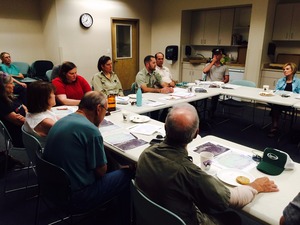 REMINDER! Future FHTF
Meetings
, 12-1:30:
Wed, September 20, County Commons, Mt. Royal Room
Wed, October 18, County Commons, Mt. Royal Room
Wed, November 15, County Commons, Mt. Royal Room
Wed, December 13, County Commons, Mt. Royal Room
Location : County Commons, Mt. Royal Room
Contact : Howard Hallman
http://hosted-p0.vresp.com/870585/23a3acc35e/ARCHIVE